Facial Aesthetics
Our dentists offer a facial aesthetics service using anti-wrinkle injections and dermal fillers.  This can rejuvenate and enhance the face. Botox is a known brand of anti wrinkle injection, other brands of toxin available include Azzalure and Bocouture. Botox can only be administered by  dentists, doctors and some nurses as it is a prescription only medicine.
Anti wrinkle injections such as Botox can soften the lines on our face .  Volume lost due to ageing can be restored with dermal fillers.
A suitable skincare regime will enhance the effects of anti wrinkle and dermal filler treatment. All our skincare is medical grade and are not available on the high street. Dermaceutics chemical peels and Innopen microneedling are our choice of skincare.  We are the only Care Quality Commission registered facial aesthetic clinic in Beverley.

Anti wrinkle injections
Non surgical facial contouring
Dermal fillers
Hyperhidrosis treatment
Medical grade skincare (Dermaceutics face peels, Innopen microneedling)
Anti wrinkle injections
How can anti wrinkle injections help in facial aesthetics?
Wrinkles or rhytides are folds in the skin, which occur naturally due to the use of the facial muscles.  Facial expressions such as smiling and frowning use our facial muscles. "Botulinum toxin A" (e.g Botox) is a toxin, which immobilises the facial muscles allowing them to relax. This results in a natural, rejuvenated look. The most common areas treated are the forehead, crow's feet and the frown.
Gummy smiles, downturn smiles (marionette lines), chin pebbling and bunny lines on your nose can also be treated by our dentists.
Non surgical facial contouring
The jaw is sculpted with anti wrinkle injections (e.g Botox). Grinding or clenching can overwork the jaw muscle, making it increase in size. Anti wrinkle injections can relax this muscle allowing it to shrink, resulting in a more V line jaw.
Dermal fillers – A little bit extra.
Hyaluronic acid (HA) and collagen in our bodies decrease as we grow older. The substances are responsible for the volume in the face, which allow the skin to appear firm and smooth whilst giving definition.  HA dermal fillers are used to lift the cheeks for a more sculpted look. They also used to define the lips, and add more volume if desired.  Results are immediate.
The face is treated in harmony at Perfect 32.  Our patients see the greatest results with combined therapies.  Every facial aesthetic treatment requires a consultation.  The dentist will then formulate a treatment plan based on your needs.  You will be offered a 2 week complimentary follow up appointment.
Why choose your dentist for facial aesthetics?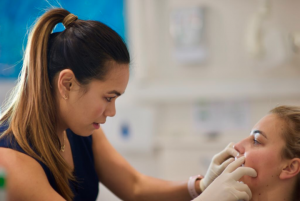 A dentist's education is solely focused on the head and neck unlike other healthcare professionals. They eat, sleep, and dream about the muscles involved in facial aesthetics, the blood supply and nerves of the face!
Their expert knowledge and understanding of these structures allows them to recreate and enhance the natural anatomy of the face safely.  With this in mind we can provide you with the peace of mind that you are in safe hands.
Other treatments
Hyperhidrosis treatment (over 18s only)
Hyperhidrosis or excessive sweating has no known obvious cause. In many cases, is thought to be the result of a problem with the part of the nervous system that controls sweating.
We can help you!
"Botulinum toxin A" (e.g Botox), is approved by the FDA to treat the symptoms of excess underarm sweating. It is injected into the affected areas to help control this condition by temporarily blocking the chemical signals from the nerves that stimulate the sweat glands.

Skincare
The skincare treatments we offer complement the anti wrinkle injections and dermal fillers by enhancing the skin. Our aesthetic team always recommend treating the skin holistically.  The team not only treat the problem but also advise on the use of preventative treatments.
The Dermaceutics chemical peels are only available to medical clinics; they offer a non-invasive solution to helping reduce the signs of ageing, acne scarring and also depigmentation. The strength of each peel varies, and we can tailor the peel to your skin's own needs – leaving you with super smooth skin!
The Innopen uses micro needles in a stamp like motion to penetrate the skin. It rejuvenates the skin by encouraging new collagen and skin cells to be formed by increasing blood supply to these areas. The Innopen is similar to a derma roller but is only available to medical clinics due to it's deeper penetration.
Further information is available at www.thesokoglow.com